I'm so happy. No, really. Just got my first copy of SLIPSTREAMS, from DAW. I'm in this lovely anthology, along with a host of fabulous people (including writers I've enjoyed and admired for years, such as Nina Kiriki Hoffman, Robert Sawyer, and Jane Lindskold.) The book is supposed to be out on or around May 2nd, so get ready. I took a few pictures of the book to prove it exists (hey, until I saw the actual finished product, I still half-suspected it to be a cruel joke perpetrated by a capricious universe...)

I apologize for the crap nature of the pictures, but it was spur of the moment with a crap webcam. :>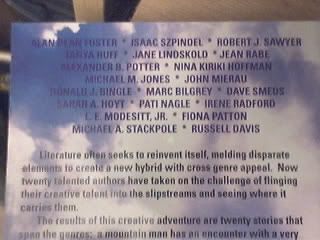 Note my name. And my many fine colleagues.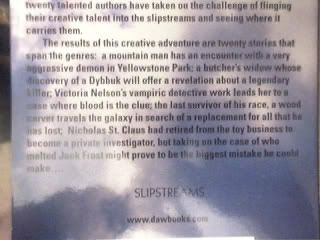 Mine's the Nick St. Claus story. I get 'story mention!'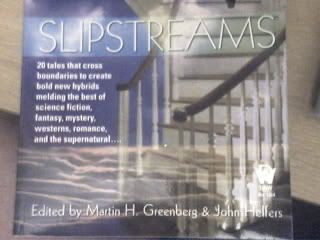 Half of the cover.

Go buy the book! Tell your friends. Am I shameless enough? I apologize, but this is my first -real- published story. And hopefully the first of many. :>

http://www.amazon.com/gp/product/075640357X/sr=8-1/qid=1144820675/ref=pd_bbs_1/103-5872452-9383035?%5Fencoding=UTF8